Eggless Peanut Butter Cup Ice Cream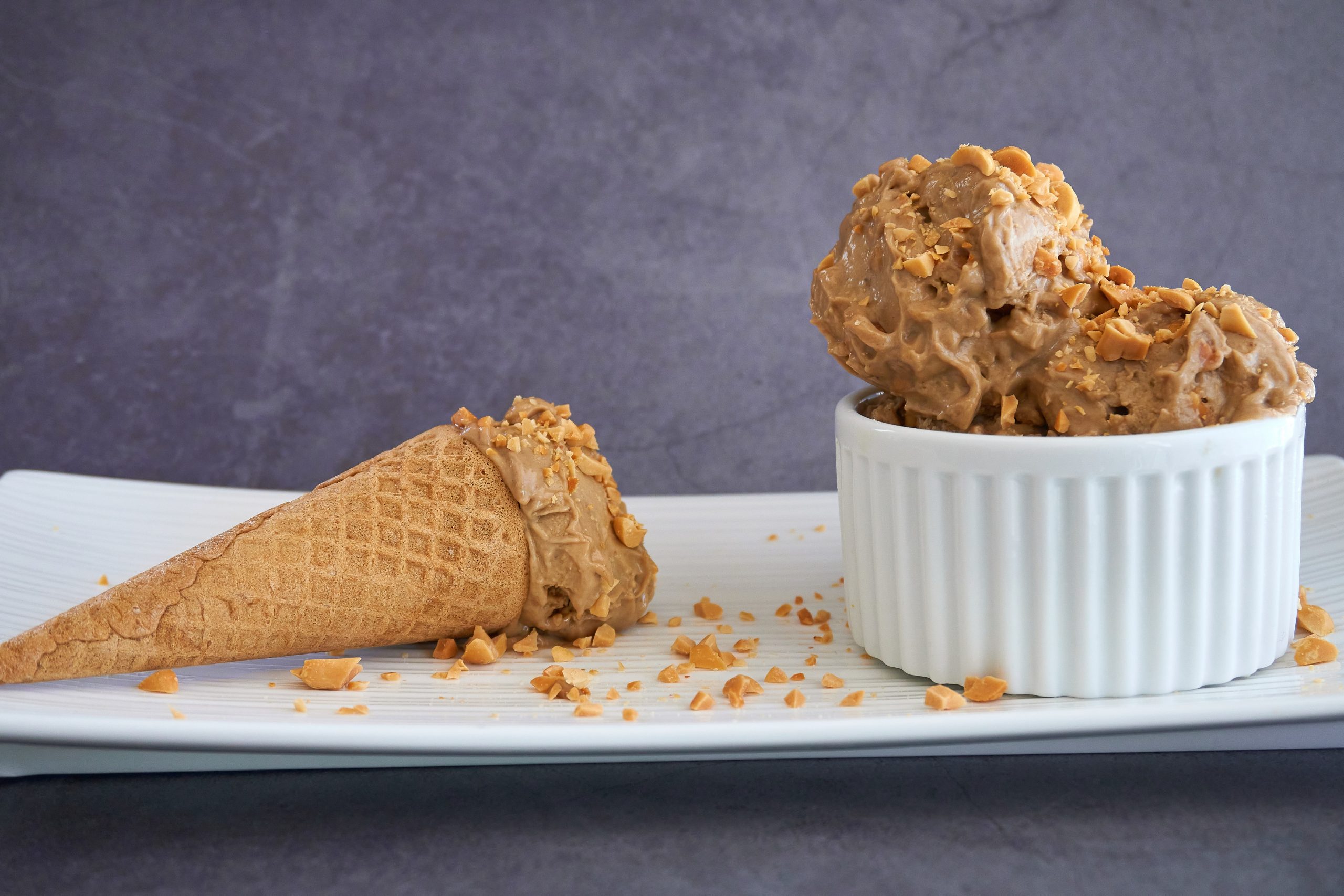 Peanut butter cup ice cream is a creamy dessert made from the most simple of ingredients. It is excellent for a hot day.
I have been making ice cream constantly ever since I received an ice cream maker a year ago. It was a birthday gift and a very welcome one at that.
Before I stumbled on Peanut Butter Cup Ice Cream, my favorite ice cream was Biscoff Ice Cream. I was making Biscoff ice cream most frequently. Now I am making Peanut butter cup ice cream the most.
One of the best things about peanut butter ice cup ice cream is that not everyone likes peanut-flavored ice cream. And that just means more for me.
This is an easy recipe to try and the ingredient list is short. You probably have all, if not most of the ingredients sitting in your kitchen right now.
If you have been looking for a new eggless ice cream recipe, you are in luck. There are no eggs in this ice cream. For some people, the taste of raw eggs is too much. No matter how faint. Hopefully everyone in your home loves it. And if someone doesn't like it, you can eat their share.
Ingredients
Peanut butter
Sugar
Milk
Heavy Cream
Vanilla Extract
Peanut Butter Chocolate Cups
Once you try this recipe, come back with some feedback. We would love to know how it turned out for you. We are always keen on knowing what is going on in your kitchen.
Ingredients
1 and 1/4 cups peanut butter (creamy)
3/4 cup white sugar
1/4 cup milk (whole)
3 cups heavy whipping cream
1 1/2 teaspoons clear vanilla extract
1 1/2 cups chopped peanut butter cups
Instructions
Pour the peanut butter and sugar into a stand mixer's mixing bowl. Beat the peanut butter and sugar together until it has a smooth consistency. Add milk, vanilla, and heavy whipping cream. Mix them in until the sugar has completely dissolved.
Pour the resultant mixture into an ice cream maker. Process the ice cream according to the instructions provided by the manufacturer.
Add peanut butter cups into the ice cream five minutes before the ice cream maker is done making the ice cream.
Wait until the ice cream is ready and transfer the ready ice cream into an airtight vessel. Leave the ice cream in a freezer for 2 hours or more. It will be ready to serve.
Autumn's Culinary Canvas: Four Must-Have Cookbooks to Spice Up Your Fall Kitchen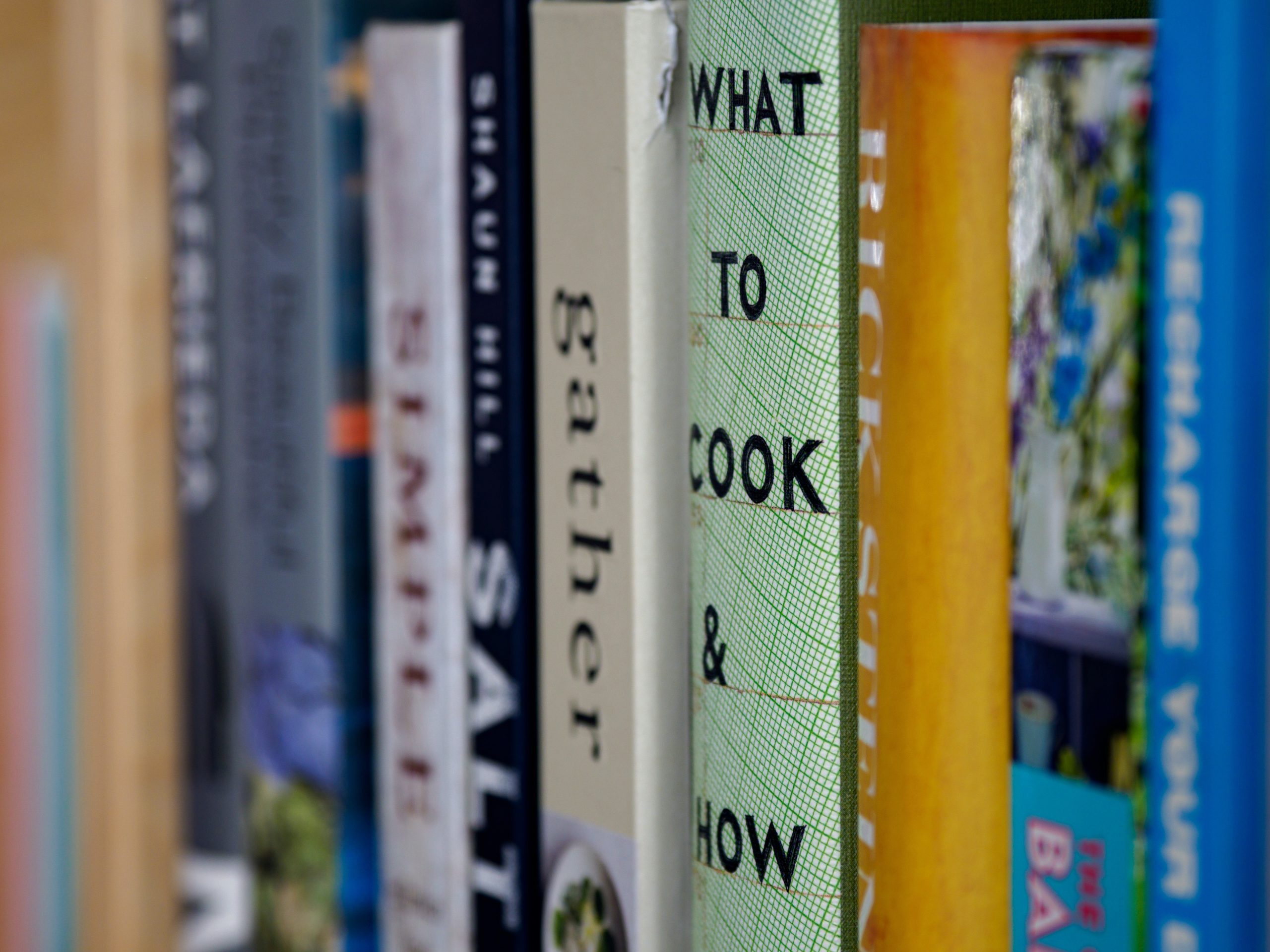 As the leaves begin to turn and the air grows crisp, the culinary world eagerly anticipates the release of new cookbooks to inspire the season's cooking and baking. This fall, a diverse array of titles beckons us into the kitchen, each offering a unique perspective on food and flavor. In this article, we'll explore four standout cookbooks that promise to enrich your culinary repertoire with global influences and innovative techniques.
1. "Snacking Bakes" by Yossy Arefi Yossy Arefi, known for her "Snacking Cakes" book, returns with "Snacking Bakes" (Amazon link), a collection that celebrates the simplicity and joy of baking. Arefi's recipes are designed for ease and flexibility, often requiring just one bowl and ingredients that are likely already in your pantry. Her mocha banana cake is a standout, a delightful twist on classic banana bread that's infused with the rich flavors of cocoa and espresso. Arefi's approachable style and clever use of ingredients make this book a treasure for anyone looking to satisfy their sweet tooth with minimal fuss.
2. "The Cookie That Changed My Life" by Nancy Silverton with Carolynn Carreño Nancy Silverton, a revered name in the baking world, shares her baking wisdom in "The Cookie That Changed My Life" (Amazon link). This book is a compilation of cookie recipes that Silverton has perfected over the years. The peanut butter cookies, in particular, have garnered attention for their perfect balance of creamy and crunchy textures. Silverton's meticulous attention to detail ensures that each recipe in the book will guide you to create the "absolute best version" of each cookie.
3. "For the Culture" by Klancy Miller Klancy Miller's "For the Culture" (Amazon link) is more than a cookbook; it's a celebration of Black women in the realm of food and hospitality. The book is a valuable resource for anyone looking to delve into this field, offering essays, interviews, and recipes that highlight the contributions and experiences of Black culinary icons. Miller's work is both an homage and a guide, providing insight into the diverse and rich tapestry of Black food culture.
4. "Made in Taiwan" by Clarissa Wei with Ivy Chen Journalist Clarissa Wei and culinary instructor Ivy Chen take readers on a deep dive into Taiwanese cuisine with "Made in Taiwan" (Amazon link). This book corrects common misconceptions and showcases the multifaceted nature of Taiwanese food, influenced by indigenous populations, colonization, and various waves of immigration. From street food favorites like popcorn chicken to indigenous dishes such as abai, Wei and Chen's book is an essential read for those looking to explore the true breadth of Taiwan's culinary landscape.
These four cookbooks are just a taste of the exciting new titles available this fall. Each offers a window into the diverse world of food, from the simplicity of a perfect cookie to the complex history of a nation's cuisine. As we settle into the cooler months, these books invite us to explore new flavors and techniques, and perhaps, find a new favorite recipe to cherish and share.
Breville+ Unveiled: The Future of Cooking is Here and It's Digital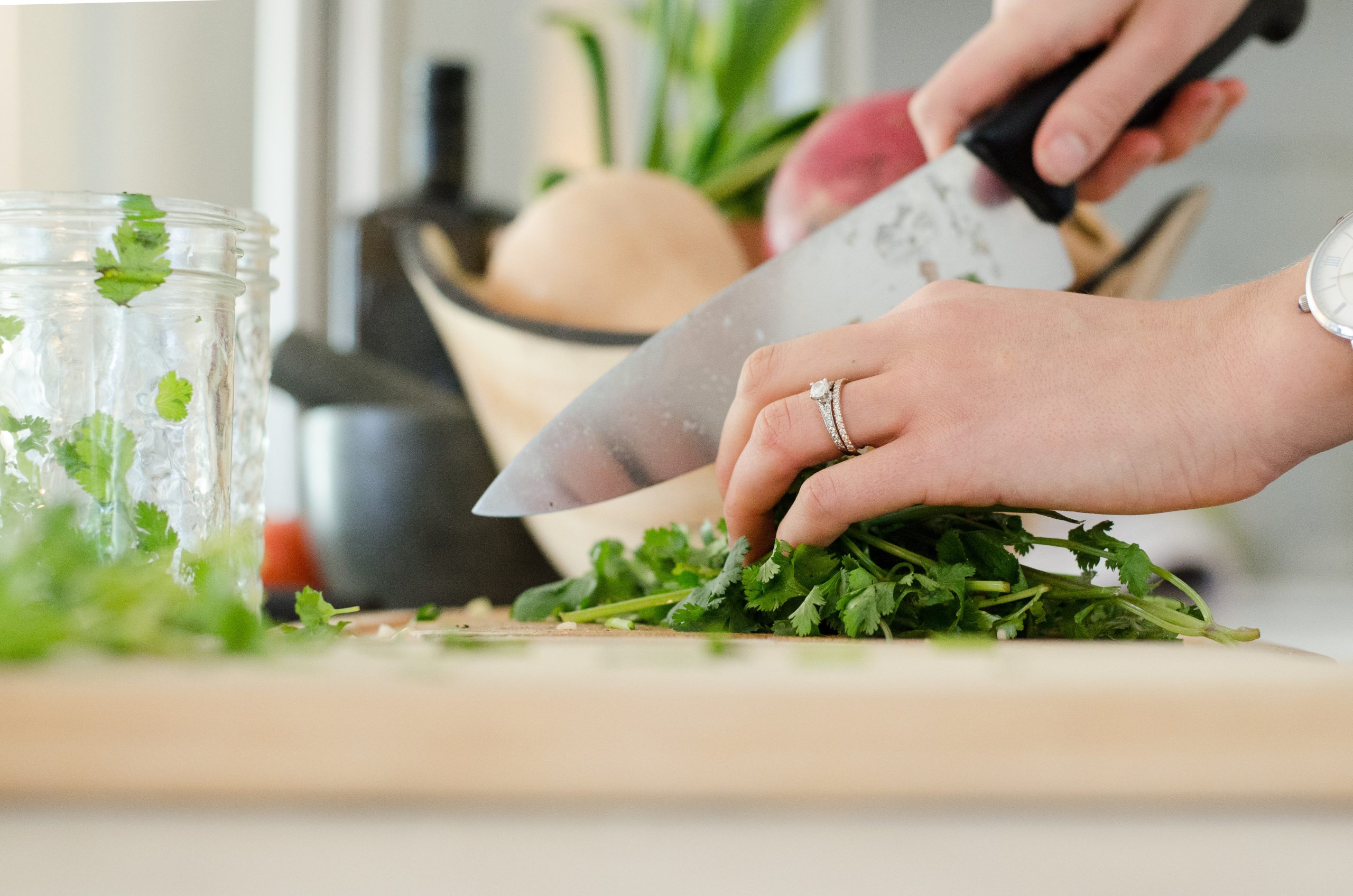 In a world where technology is increasingly becoming a part of our daily lives, the kitchen is no exception. Breville, a brand synonymous with innovation and design in premium kitchen appliances, has recently announced the launch of Breville+, a groundbreaking platform that aims to revolutionize the way we cook. This free, expert-led platform offers over 1,000 dynamic step-by-step video recipes from an unparalleled range of food experts, including The New York Times, America's Test Kitchen, Serious Eats, and ChefSteps. These recipes have been exclusively tested and tuned for Breville's range of award-winning appliances, making them practically fail-safe from the get-go.
A Culinary Platform Like No Other
What sets Breville+ apart is its comprehensive approach to cooking. Not only does it offer a collection of essential and exciting dishes for home cooks at every level, but it also provides comprehensive instructions on how to make the most of your Breville appliances. This includes MyCook Guides, access to expert advice, and live and on-demand classes. All these features are aimed at helping users achieve culinary mastery with ease.
The platform is free and available to both new and existing Breville appliance owners. Every recipe has undergone rigorous testing in Breville's Test Kitchen, under the leadership of Chef Otto Römer, formerly of Heston Blumenthal's The Fat Duck Group. This ensures that the recipes are not just delicious but also reliable.
Bridging the Gap Between Technology and Culinary Arts
The integration of technology into the culinary world is not a new concept. Various platforms like Tasty and the Food Network have been offering online recipes and cooking classes for years. However, Breville+ marks a significant shift in this landscape. According to Catherine Ruspino, Breville's Senior Vice President, Product & Solutions, Americas, "Breville+ marks the first platform from a kitchen appliance brand that marries professionally tested, skill-driven content with appliance-specific recipes."
This is a game-changer in the industry. As noted by CNET, smart kitchen appliances are becoming increasingly popular, but what has been missing is a platform that can guide the user through the cooking process, tailored specifically to the appliance they are using. Breville+ fills this gap.
Empowering the Home Cook
Andrew Sirotnik, Chief Experience Officer at Breville, says, "As a company, we've invested in creating Breville+, acknowledging that home cooks can experience challenges throughout the prep and cooking process. We've created Breville+ to solve these challenges and support the home cook wherever they are in their cooking journey."
This is in line with the growing trend of home cooking, accelerated by the COVID-19 pandemic. According to a report by Statista, 54% of Americans are cooking more than before the pandemic. Breville+ aims to make this experience more enjoyable and less daunting, especially for those who are new to cooking.
What's Next for Breville+?
The platform is currently available for a range of Breville appliances, including the Smart Oven® Pizzaiolo, the Joule® Oven Air Fryer Pro, and more. New contributing partners, guided recipes, and on-demand content will be added monthly, ensuring an ever-evolving culinary experience.
Breville+ can be downloaded through the Apple App Store and the Android App Store, making it easily accessible for a wide range of users. For more information and to explore Breville+, you can visit their official website.
Conclusion
Breville+ is not just another cooking app; it's a comprehensive platform that aims to change the way we approach cooking. By integrating expert advice, rigorously tested recipes, and appliance-specific guidance, Breville+ is setting a new standard in the culinary world. It empowers home cooks to not just follow recipes but to understand the science and art behind them, thereby enhancing their overall cooking experience.
So, whether you're a novice looking to make your first dish or a seasoned chef exploring new cuisines, Breville+ has something for everyone. It's time to embrace the future of cooking, and it's digital.
An Alcohol-Free Version of Our Best-Loved Cocktail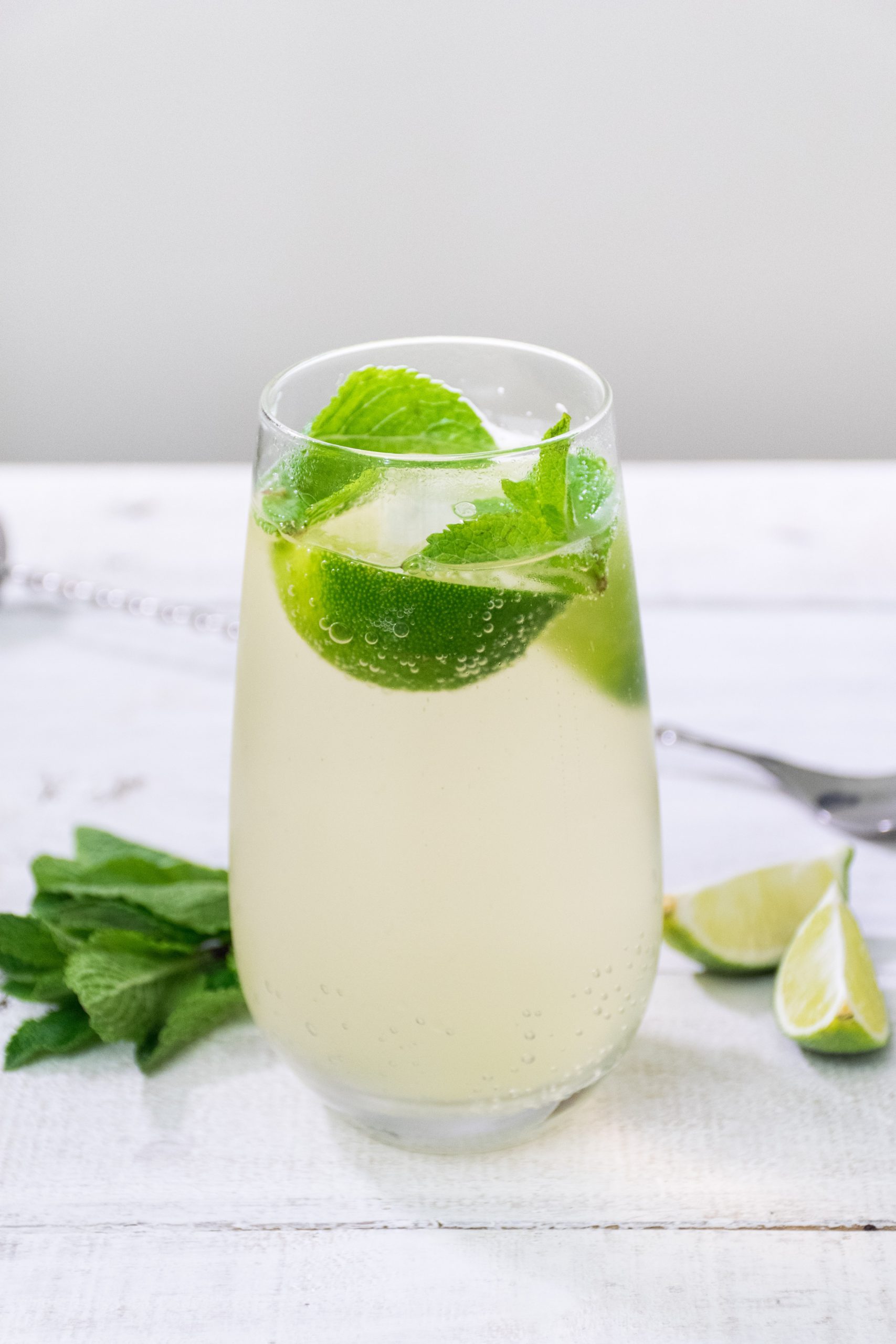 So many people want to know how they can enjoy Coconut cream and lime margarita without the drowsiness that comes after an alcoholic drink. Alcohol is a commitment that you are not always prepared to make. Few things are as pleasant as a margarita enjoyed at a poolside.
Devon Francis is a test kitchen cook who has solved your dilemma with her recipe for a non-alcoholic margarita that offers the same refreshing tropical flavors with none of the alcohol. She uses honey, ginger, maca root powder, Tajin, and orange juice instead of tequila and Cointreau. Believe it or not, her margarita is just as good as the original – if not better.
Devon specifically chose maca powder for its mood-boosting properties and ginger as an adaptogen. According to her, the drink combines coconut flavor with tart and heat. "The overall flavor profile is tart, coconutty, with a hint of heat from the ginger and Tajín."
Tajin is a popular Mexican seasoning composed of dehydrated lime, chiles, and salt. You can find Tajin in grocery stores, liquor stores, online food stores, and Latin American food stores and markets.
If you buy cut mango in Brooklyn or Mexico City, you may have come across Tajin. It is sprinkled in with the fruit and adds an invigorating salty, bright, and spicy flavor to the mango.
Devon designed her recipe to be flexible and quick to make.
Here is her recipe for a fabulous non-alcoholic margarita:
Non-Alcoholic Coconut-Lime Margarita
To rim the glass:
1lime wedge
1 tbsp. pink Himalayan salt
½ tsp. Tajin Clasico Seasoning
For rimming the glass:
To make the drink:
3 oz. coconut milk
1 Tbs. local wildflower honey
2 oz. freshly squeezed orange juice
1 tsp. peeled and grated fresh ginger
1/4 tsp. maca root powder
2 oz. freshly squeezed lime juice
1/8 tsp. Tajín Clásico Seasoning, plus more for garnish
1 lime wedge
Combine the Tajin and salt in a small bowl and stir them together. Spread them evenly in one layer. A small bowl will help you to coat the rim of your glass with a thicker mixture.
Use the lime wedge to moisten the rock's glass rim and dip it into the salt mixture in the bowl. Shake off any extra and store the glass in the fridge until you are ready to use it.
Before you serve the margarita, pour ice cubes into your rimmed glass. Combine the orange juice, coconut milk, honey, lime juice, ginger, honey, maca root powder, and Tajin in a cocktail shaker. Cover the cocktail shaker and shake the mixture hard until it is well chilled. Strain the mixture into your glass that is rimmed and filled with ice. Use the lime wedge as garnish and sprinkle Tajin lightly on your drink just before serving.
Serves 1