History of California Pizza Kitchen

California Pizza Kitchen is a restaurant chain that originated in Beverly Hills, California in 1985 by attorneys Larry Flax and Rick Rosenfield. They are widely known for their innovative and non-traditional pizzas like BLT, Original BBQ Chicken pizza, Jamaican Jerk Chicken pizza, and Thai Chicken pizza. Aside from their not so usual pizza flavor choices, California Pizza Kitchen also serve different kinds of sandwiches, soups, salads, and desserts. They also have a widerange of menu for children ages ten and below which includes salads, pasta, chicken, and of course, pasta.
California Pizza Kitchen has about 200 locations in 32 states and 13 other countries. They have 17 California Pizza Kitchen non-traditional branches and franchise concepts which are specially designed for stadiums, universities, and airports. The company's brand also has a license to a line of crispy, gluten-free, and hand-tossed style frozen pizzas in supermarkets. But how did giant casual dining pizza chain started?
History of California Pizza Kitchen
In 1985, attorneys Larry Flax and Rick Rosenfield founded California Pizza Kitchen by collecting 200,000 dollars in savings and bank loans together with 350,000 dollars invested from friends for them to lease space on Beverly Drive in Beverly Hills, California. Their approach behind California Pizza Kitchen was simple because both Flax and Rosenfield wanted was to provide an upscale, casual, family restaurant that offers good food. Most of CPK's kitchens are out in the openso that their customers can see the cooks prepare their pizzas. They baked their pizza in wood-burning ovens that were imported all the way from Italy and they cook the pizza to 800 degrees Fahrenheit for three minutes in order for the ingredients to sear into the pizza dough. Their cooking preparation results in a tastier and healthier pizza. Their first ever menu, which featured the famous BBQ Chicken Pizza, was created by Ed LaDou a pizza chef at Wolfgang's Puck Spago restaurant. Flax and Rosenfield then decided to add soft drinks, pasta, salads, liquor, and dessert on their menu. And since then, California Pizza Kitchen became a success and the next thing they knew, CPK expanded throughout Southern California. Seven years later after their opening, CPK had about 26 branches.
In 1992, PepsiCo bought almost 67 percent of the pizza chain for nearly 100 million dollars where Flax and Rosenfield both received 17.5 million dollars each. However, the PepsiCo management wanted to gain more experience on operating casual-dining, and moderately priced restaurants that's why they finalized their deal for 97 million dollars with both Rosenfield and Flax receiving 20 million dollars each. After their agreement, PepsiCo took two seats out of four on CPK's board of directors while Flax and Rosenfield remained co-chairmen of the board of directors in which they have 50 percent voting control and direct day-to-day operations of California Pizza Kitchen. PepsiCo and California Pizza Kitchen's partnership flourished from the very beginning and by the latter part of 1993, Rosenfield and Flax were operating about 35 CPK restaurants across the United States. However, the rapid expansion of the restaurant turned out to be a disaster that's why PepsiCo's executives decided to cut corners by replacing their fresh ingredients with frozen cheese and vegetables, a change Rosenfield and Flax did not agree to that's why they decided to reverse it after.
1994 was CPK's best year because it was when they marked the opening of their 70th restaurant operating in 15 different states and in the District of Columbia. Their sales also skyrocketed to 120 million dollars which is a dramatic 60 percent increase compared to the previous year. And in 1995, California Pizza Kitchen had a total of 78 restaurants in 18 states and in the District of Columbia. They also added new food combinations and toppings to their pizza menu. They also introduced new items such as Tuscan bean soup and tequila fettuccine.
In 1997, Sherrill & Company, Rosser, and Bruckmann, all private equity firms, bought PepsiCo's two-thirds stake along with their intention of taking California Pizza Kitchen public in 2000. They also pushed the company's expansion to resume that's why they decided to hire a veteran executive named Fred Hipp to run the company. Although Rosenfield and Flax remained on the board of directors, they no longer had control of the day-to-day operations.
To this date, California Pizza Kitchen is operating in different countries such as Pakistan, Philippines, Thailand, Saudi Arabia, Australia, Hong Kong, Chile, Taiwan, Japan, Mexico, South Korea, India, Singapore, United Arab Emirates, and Malaysia.
How Birdie's of Austin is Redefining Dining and Workplace Culture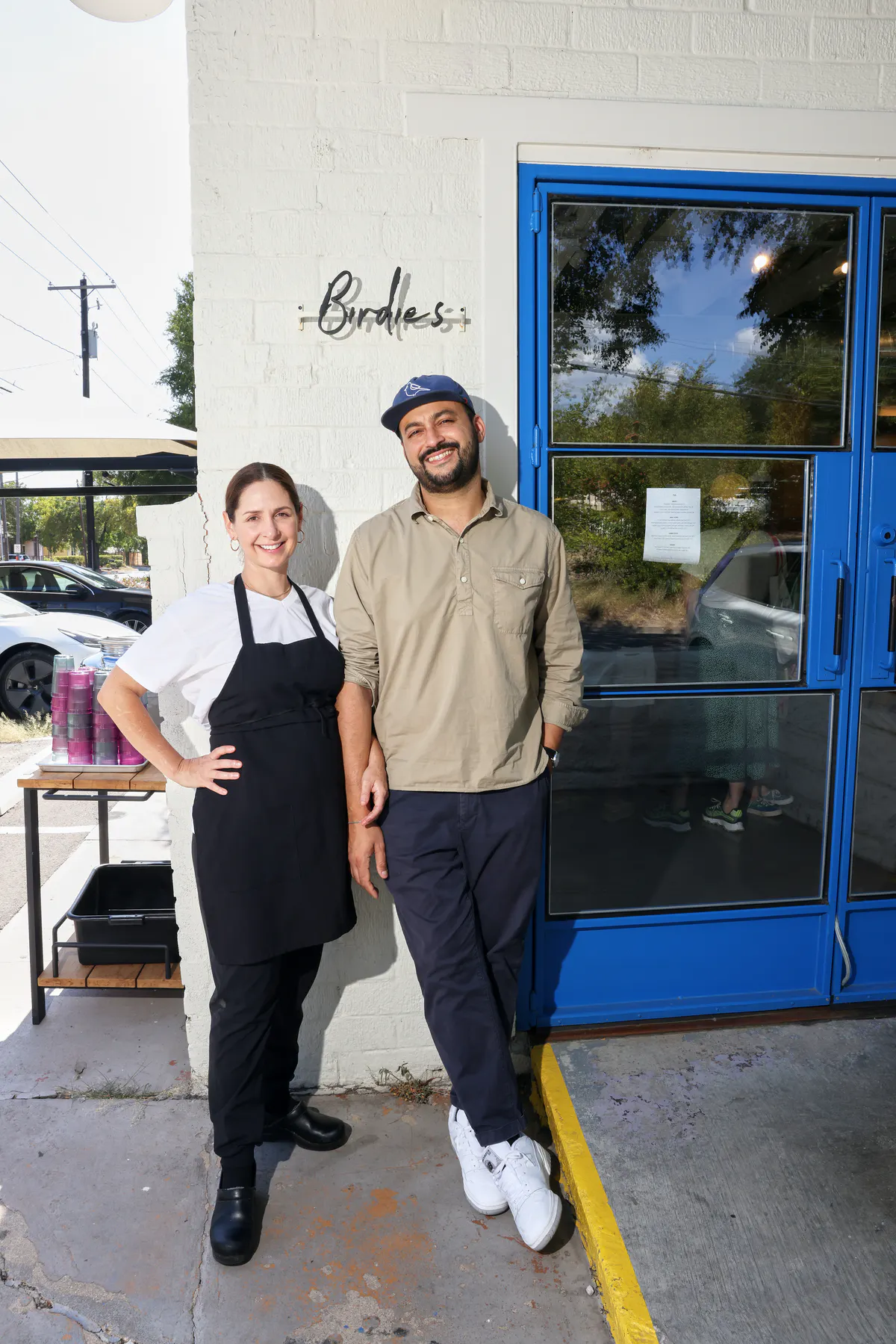 In the heart of Austin, Texas, a culinary gem named Birdie's is redefining the essence of neighborhood dining with its innovative approach to both cuisine and workplace culture. This establishment, recently crowned as the 2023 Restaurant of the Year, is not just a place where the community gathers for a meal but a beacon of sustainability and employee wellness in the hospitality industry.
Birdie's, the brainchild of chef Tracy Malechek-Ezekiel and her husband, beverage director Arjav Ezekiel, stands out for its exceptional fare and a business model that places the mental health and well-being of its staff at the forefront. The restaurant's fame has spread far beyond Austin's East 12th Street, drawing in both locals and travelers with its seasonal ingredients, unfussy yet refined dishes, and a wine program that is as approachable as it is intriguing.
The culinary prowess of Tracy Malechek-Ezekiel shines through in dishes like the beef tartare accompanied by carta di musica, a dramatic presentation that has become a signature of the restaurant. The Italian pop-up, Aiello's, brought forth a caper-laden chicken piccata that remains etched in the memories of patrons. The weekly pasta showcase, featuring delights such as gnocchi sardi bathed in tomato sauce with pecorino and breadcrumbs, is a testament to Tracy's skill in elevating simple ingredients to gastronomic heights. Vegetables, too, are given star treatment, with dishes like green beans tossed in an anchovy-garlic vinaigrette showcasing the chef's ability to dress produce with maximum flavor.
Arjav Ezekiel's wine program complements the culinary experience with a selection that encourages exploration. The 250-bottle list includes unique finds like the Christophe Mignon ADN de Meunier Brut Rosé, described by Arjav as having a "nose of buttered brioche with strawberry jam." The restaurant's selection of ports, sherries, and vermouths rounds out the dining experience, offering a sophisticated finish to any meal.
The couple's journey began in New York City, where they met in 2015 and discovered a shared philosophy on work-life balance. Determined to create a restaurant that would allow them to prioritize their family and personal well-being, they chose Austin for its vibrant community and the opportunity to return to Tracy's home state. Birdie's was born from a clear vision of sustainability, not just in terms of ingredients but also in the lifestyle it afforded both the owners and their employees.
Birdie's operates on a counter-service model, a rarity for establishments of its caliber, allowing for a lean team that can serve up to 200 people a night. This model also supports a flat tip pool, ensuring equitable compensation for all staff members, from dishwashers to cooks to front-of-house personnel. Education is a cornerstone of the Birdie's ethos, with wine classes held bi-weekly to enhance staff knowledge and appreciation of the beverages they serve.
The restaurant's commitment to staff welfare extends to its vacation policy, offering two weeks of paid time off in August and over the winter holidays. This approach is a stark contrast to the industry norm, where vacations are often a luxury afforded only between job transitions. Mental health is also a priority, with subsidized care provided through the Mike & Sherry Project, an Austin-based initiative supporting hospitality workers. In a move that underscores their dedication to their team's well-being, Tracy and Arjav have been known to close the restaurant for additional rest days when needed.
Birdie's also sets a benchmark in health benefits, offering insurance coverage after 60 days of employment and covering half of the premium. The introduction of paid family leave for two months is a groundbreaking step in the hospitality industry, reflecting the owners' desire to support their staff through significant life events.
Looking to the future, the couple is focused on growth and the replication of their successful model. They field calls from restaurants nationwide, all eager to learn how to balance exceptional hospitality with a healthy workplace. Birdie's stands as a testament to the fact that in the restaurant business, there are no shortcuts, only dedication and a commitment to breaking the rules to create a sustainable and fulfilling work environment.
As Birdie's continues to enchant diners with its culinary offerings and charm industry professionals with its revolutionary model, it serves as a shining example of what the future of dining could look like — where the nourishment of patrons and the nurturing of staff go hand in hand.
In an industry often characterized by its grueling demands, Birdie's stands as a beacon of hope, proving that a restaurant can indeed be a place of both gastronomic delight and genuine care for those who make it all happen. It's not just the food and wine that make Birdie's a destination; it's the heart and soul poured into every aspect of its operation.
Greenwich Village Enjoys Georgian Delicacies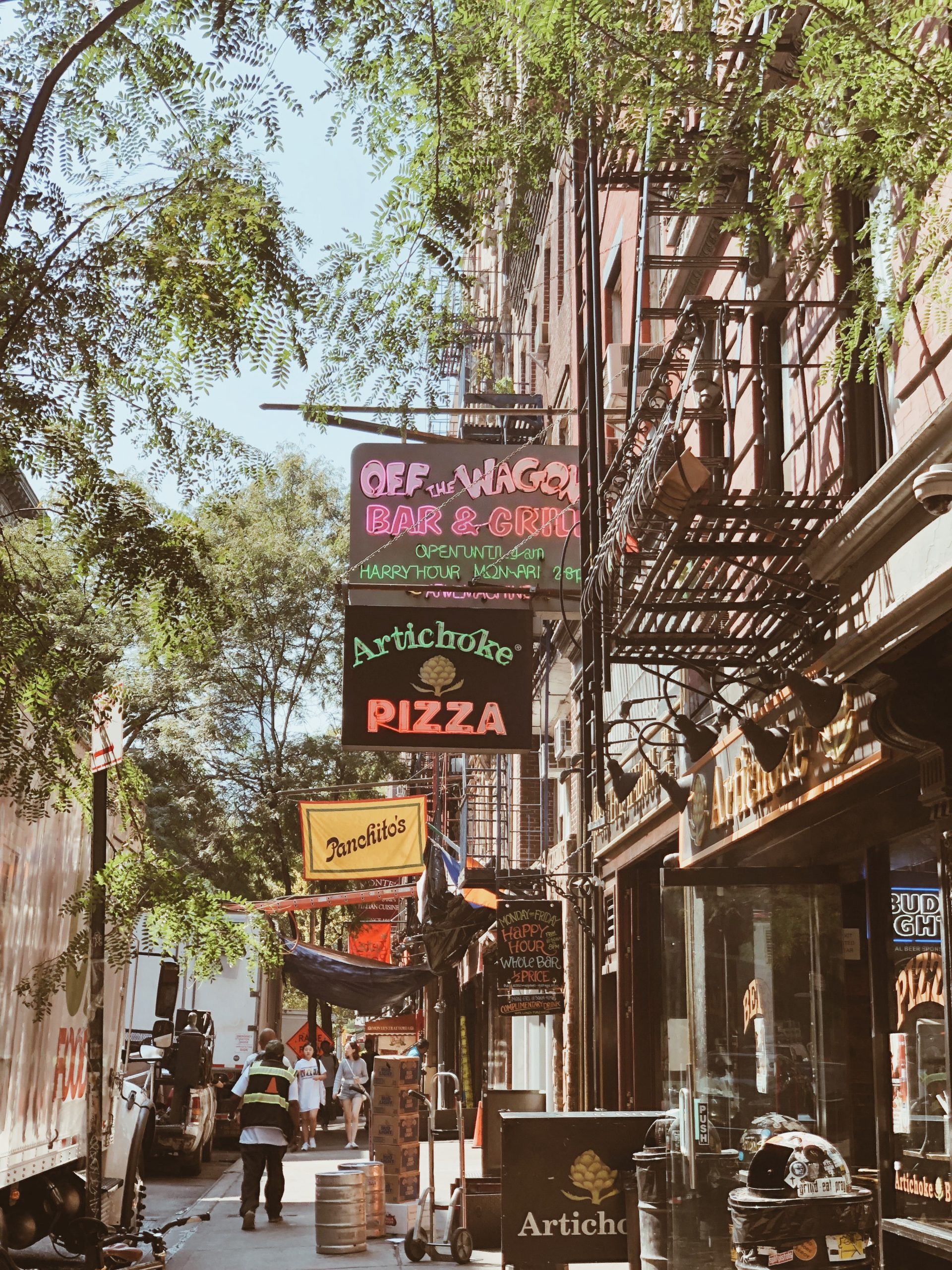 Sometimes we go down to Greenwich Village in search of something fresh and interesting to eat. More often than not, we will find ourselves on 8th Street,
Between Sixth Avenue and Broadway are a Chipotle, a Dunkin' Donuts', and a Domino's Pizza. While quite popular, these are not the only eateries there. There are a lot of decent Indie restaurants hidden in between.
The biggest problem with good indie restaurants is that they don't always stay open long term. As soon as you find a good Persian restaurant, they close up and you find a Japanese restaurant in its place. Or the nice bakery you just started frequenting is suddenly replaced by a Sushi place.
The Cafedelia is a deceptively simple Georgian restaurant with just 12 seats. Cafedelia just set up shop at the Sunshine Hummus kitchen.
The little café offers all the hearty meals and cheesy breads you would expect to find in a New York Georgian restaurant.
Owners Zurab Kikiani and Ramaz KIknadze partnered to create a fast-casual take on their traditional Georgian takeout shop Georgian Deli and Bakery, located in Bath Beach.
We were cognizant of the fact that Indie restaurants on 8th Street are transient, and we took the precaution of ordering everything on the menu of the Cafedelia. After all, tomorrow never comes.
We were not disappointed. Everything on the menu was either good or really good. We found the chicken meatball soup luxurious and skilfully enhanced with herbs.
We found their chashushuli (spicy beef soup) to die for. It was served with mashed potatoes, salad, and pickle sides.
We were particularly pleased with the adjaruli khachapuri which is a bread they bake on order. It is a canoe-shaped and stuffed with melted cheese and topped with egg yolk.
We also ordered khinkali – some juicy dumplings stuffed with meat and pleated. They definitely give xiao long bao soup dumplings some stiff competition.
Their honey-caramel cake was so good that it proved just how underrated Georgian sweets are. All in all, we were completely satisfied and impressed with everything. Cafedelia is now one of our favourite 8th Street indie restaurants. And we hope that it stays open for a long time to come so that we can remain happy patrons.
It's Over for the Hidden Gem that is Lhasa Fast Food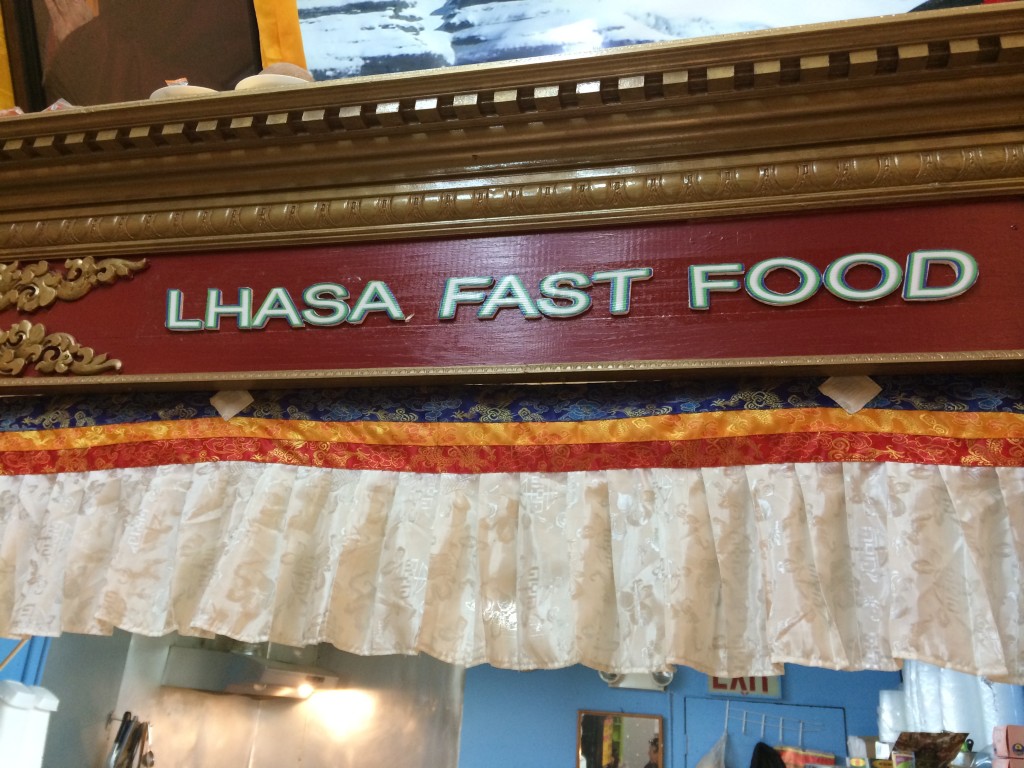 I have a ton of memories of time spent at Lhasa Fast Food. The friends I entertained at Lhasa, making my way to the backstreet restaurant hidden behind a cellphone repair workshop.
Located at Jackson Heights, the restaurant provided some of the juiciest momos for New Yorkers.
So I was shocked to find out that Lhasa was no more, thanks to a four-alarm fire tearing through the structure in March 2021.
Sang Jien Ben who owns the place wrote on a GoFundMe page that he was not hopeful of receiving an insurance payout to enable him to rebuild in Jackson Heights.
According to Eater, Lhasa Fast Food most likely won't reopen at the same place because that would require rebuilding.
The fact that the fire took place following one of the hardest years for restaurateurs makes the situation even more painful for the die-hard fans of Lhasa. Jackson Heights was particularly hard hit by the pandemic.
The disaster also came just after a long winter during which restaurant workers lost jobs and many businesses closed shop.
Lhasa was unique because you had to go out of your way to access it somewhere where you would not expect to find a restaurant. The owner writes on the restaurant's GoFundMe page that his success in carving out a place for a restaurant in an unexpected location secured his family's livelihood.
Lhasa is the type of place that naturally becomes an integral part of its community. People outside Jackson Heights don't know about it, and this makes it even more of a local treasure.
With time though, Lhasa built a name for itself and blew up when Anthony Bourdain showcased it on the program Parts Unknown. Ben originally launched it in 2012 but has since expanded the business to Elmhurst and East Village where it occupies storefront locations as opposed to its backdoor origins.
The original Lhasa has retained its charm through the years even with the subsequent growth and expansion.
In business, it does not pay to be a secret. You need people to know about you and buy from you. For Lhasa though, a small hint of secrecy has added to the appeal of the place. In a world where everything is online, a hint of secrecy can entice many adventurous customers.
Nano Billiards Café is a pool hall that I also loved. The café sits off the Bronx' Grand Concourse and serves the most delicious Dominican dishes. It is the place to go when you want some locrio depollo or some bacalao served with red sauce on it.
I could not help but miss Nano Billiards any time I passed near it. I wanted to stop and enjoy the meals whenever I was passing through Arthur Avenue or checking out restaurants in the neighborhood. Sometimes I would even alight the subway earlier than I wanted to.
The last year has seen me walk into these cafes repeatedly. Even when I was on my way somewhere else, I would end up making a detour. These places are part of the DNA of their communities, and newbies don't easily make their way there.
But one of the things that we have lost with the Coronavirus pandemic is being out and about, and the opportunity to stumble upon gems like the Lhasa or the Nano Billiards Café. Such hidden gems are places that are not that well known but that you pleasantly uncover when you get to know a place a little better.
They are the rewards of taking the trouble to get to know a place better and get acquainted with the local people.